Friday, November 25th, 2011 at 8:52 am
More Reasons To Grow Grapes Than Just The Fruit And Wine:
Since the last post, I received hundreds of emails from subscribers asking about how to grow grapes and answered as many as I could, but haven't gone through half of it yet!  Anyway, I will make some time over the weekend to read a couple more.
One really interesting mail was from Marie, they grow grapes in the USA and she told me about the basket her husband made from canes they pruned off her grape vine.  Since it's Thanksgiving and the Christmas season is on hands, you can decorate your house with these lovely grape vine wreaths.  Marie, thanks for sharing your pictures and the basket looks really nice.
Click on picture to enlarge
When I did a search online for grape vine wreaths, I was shocked to see that these things sell for up to US$49 – more reasons to grow grapes?
Okay because I also grow grapes and have these thousands of canes lying around, I decided to make my own wreath.  I was surprised to learn how easy it really is!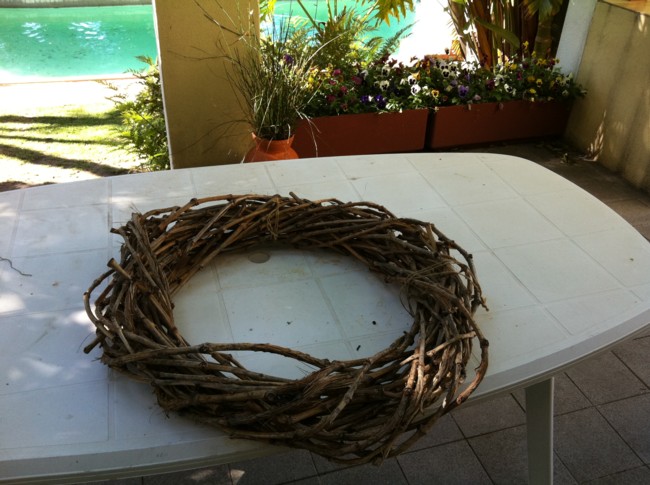 Here's how I did it:
Take about 8 to 10 long canes and cut them back to about 4 to 5 feet.
Tie the ends of the first cane together to make a circle – as big is you want the wreath to be
At the opposite side, tie one end of a cane to the wreath and start twisting it around the "circle"
When finished, tie the other end to the wreath as well.
Go on with this until the wreath is the size you like.
Start each cane at a different position – this will ensure you have an even wreath, with cane-ends in different places (with my first attempt, I didn't do that, and had to start over again)
Decorate the wreath as you like – see the video below (I'll let my wife decorate this one and post a picture on my blog)
More reasons to grow grapes?
I think so!  Anyway, except for the grapes itself, the wine, the gelly and so on, you can see that there are more reasons to grow grapes.
Happy Thanksgiving!
Your grape growing friend, Danie
Not a member of the complete Grape Growing System yet?
Join right now and learn how to grow grapes the correct way.