Planting distances and row distances for grape vines
Thursday, July 8th, 2010 at 9:05 am
Hi grape growing friends,
With the Soccer World Cup fever at it's highest here in South Africa, and my farm workers on annual vacation leave, I took some time off with my family as well.  I traveled to a few places aroud our beautiful country and just enjoy all the visitors to South Africa and the great football.  I hope some the readers of my blog were here and would love to hear what your comments are – maybe break the rule, to never talk about anything else than growing grapes on this blog, and put up a post for this??  Great game by Spain yesterday!  I think it will be a cracking final on Sunday.
Anyway, now I'm back in business and back in front of my PC, bringing you some fresh grape growing info to start the second half of the year.  With that said, let's look at planting distances and row distances for grapes.
Gardening space is normally a big problem for home grape growers, so they cramp three to four grape vines into a 10 squire feet area in their garden.  Of course this seems logical; they hope to get a bigger crop because they planted more grape vines, but unfortunately, this is where it all goes wrong!
Planting a row of grape vines or a vineyard, starts with proper planning.  Before you even buy the cuttings, asses the area where you will plant the vines and measure the length of the row you will construct.  If you plan to plant more than one row, then measure the width of the area as well.
During the first couple of years (year 1 to 3), grape vines that were planted with too little space between the vines, will most probably not show any stress or symptoms.  As the vines grow older, the rooting zone and the canopy area gets bigger and sooner or later the adjacent vines will start to grow into each other.
When this happens, the canopy of the vine will compact and prevent proper airflow and sunlight penetration into the vine.  Not only is this bad for disease control, but will also have a huge influence on the fruitfulness of the grape vine.
I've personally seen the effect this has on a grape vine.  One of my friends decided to plant his vineyard 1.2 (+-4 feet) between the vines x 2.8m (+- 9 feet) between the rows. At first the vineyard was doing just fine, but round about year five, the production of the vineyard dropped by almost one third and in year six, it dropped even more! 
We assessed the problem and decided that the problem was nothing else than unfruitfulness; the variety (Sugraone), he grew is genetically an unfruitful variety itself, which made the problem even worse.  He decided to removed every other grape vine in the row, changing the planting distance to 2.4m x 3m (8ft x 9ft).  The next season, the vineyard produced a normal crop and since then went on to become one of his top producing vineyards on his farm.
Now you may ask; "Then what is the best planting distances?"  To answer the question, you will have to look at how you will train and prune the grape vines; how vigorous the variety grows and if you will use tractors and implements in your vineyard.  For varieties you prune with spurs, I would recommend the absolute minimum between the vines to be 1.2m to 1.5 m (4ft to 5ft) and for cane pruned vineyards 1.8 to 2m (6 to 7 feet).   The reason why I recommend a greater planting distance for cane pruned vineyards, is because it takes up more space on the canopy wires and we usually prune vigorous growing and unfruitful varieties with canes.
As said earlier, the distance between the rows depends on the way you will cultivate the vineyard and your variety so you will need to know the width of the tractor or spray pump and add about 15 to 20 % for the movement of the implements in the rows.  If you will not be using tractors and other implements in your vineyard, the same rule as for planting distances applies to row distances.
What is most common planting distances for grapes?
I would recon it would be 8 to 9 feet between rows and 6 to 8 feet between vines giving you round about 600 to 800 vines per acre.
Here is an email I received from Judy:
Danie,
     Wow! What a wealth of information you have.. I recently moved to Carson City, Nv,from Torrance, Calif. I am at 2,800′. I have a home on a nice acre of desert soil.   I have planted 4  bare root Thompson seedless. I had potted the plants until I replanted a few weeks ago… .  I dug 4, 3′ holes and filled them with my compost, potting soil, mixed with the desert soil.. I know 3ft., holes are a bit deep, but, I figured it wouldn't hurt..  I also planted them 4ft. apart.. It will be only one row.. I still have concord to plant.. How far away should the concord be planted.. Will they cross?  I'm 67 and  digging these holes aren't easy, but, I figure it's good exercise.. If you have any information that would help me in this climate.. It;s 101 today.. I eventually want to add  more Thompson and Concord. Thank You for your time,
                              Sincerely,
                              Judy
First of all, thank you Judy for the email.  You have inspired me to write this article so here is what I think you should do.
1st: 101'F is no problem for a grape vine, they will adapt to these conditions easily.
2nd:  You will plant only one row, so the distance between rows is no problem

3rd:  The varieties you will grow are Concord and Thompson and both these varieties are cane pruned (long bearers).  Thompson Seedless itself, is a variety that is known for it's vigour and unfruitfulness, so if you read what I've said before, I would recommend a planting distance of not closer than 6 to 7 feet. 
I know this is bad news for you, as you will have to make new planting holes, but rather do it right from the start than to have a row of grape vines that does not produce a proper crop.
Just to show you how we lay out our vineyards before we plant the posts and vines; her is a picture of one of my vineyards.  You will see the chalk lines on the ground; this is where the the canopy posts will be planted.  The planting distance I will use is 3m (between rows) x 2m (between vines).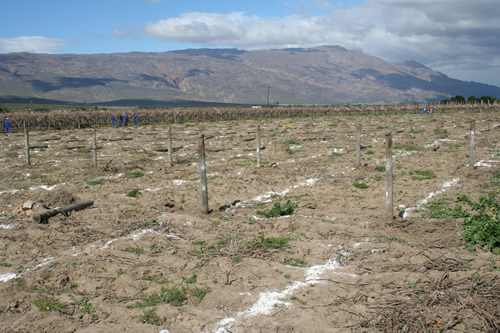 Right, so I hope you guys have a learned something new from the article and again thanks for reading my blog and supporting the effort I put in.
Good luck to the Netherlands and Spain for the final match on Sunday!.
Cheers for now, and I will talk to you soon.
Danie
 Remember, once you planted your grape vine, it will be part of your life for many years to come;  so doing it right the first time is important!

The Complete Grape Growing System is an online product.  All the grape growing info I have will be at the tips of your fingers within 5 minutes from now. 
You will not receive any physical product with your order. 
Share and Enjoy
Tagged with: how to grow grapes
Filed under: growing grapes • how to grow grapes
Like this post? Subscribe to my RSS feed and get loads more!