Sunday, October 4th, 2009 at 7:43 am
Hi Grape Friends,
I received this email from Rick, a member of the Complete Grape Growing System.  From the email he send me, it seems like he knows what to do – how to start constructing the framework of the grape vines, however he ran into some difficulties along the way.
By the way, Rick's grape vines look great, and it's always a pleasure to assist you guys wherever (whenever 😐 ) I can.
NOTE:  The text in red, are my replies.
Background info:  I live in _________ , Arizona, USA. We live in a desert and summer temps are extreme. Temps of 110-115 degrees (F) are common in July & August. Our growing season is long lasting from March-November. I just got my first grape plants and I'm hoping to get "first year growth" before night time temps get cold in November.
I just got some grape plants and bought your system last week. I've modified an existing arbor to accommodate the grapes. The arbor was built to provide mid-day and afternoon shade. I decided to plant grapes there last minute. The plants I was given are very young and some don't appear to be in very good condition. I have a few questions:(since I took these pictures I've pulled the wires tight.)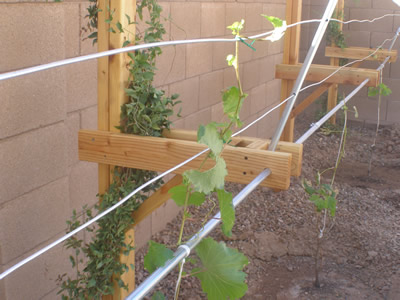 The vine (training shoot) had no growing point when I got it. It's long enough to reach the first two wires and in the few days since I planted, the buds have begun to sprout. These are going  to be lateral shoots? correct? This is what I want to be happening, correct?
Rick, that is absolutely correct.  These lateral shoots will one day be the cordon or arms on which you will prune the spurs or canes – depending on what pruning method you will choose. I zoomed in on the picture (below), to show you guys what Rick was referring to.  See those small leafs, they will develop into shoots that must be trained on the horizontal trellis wires.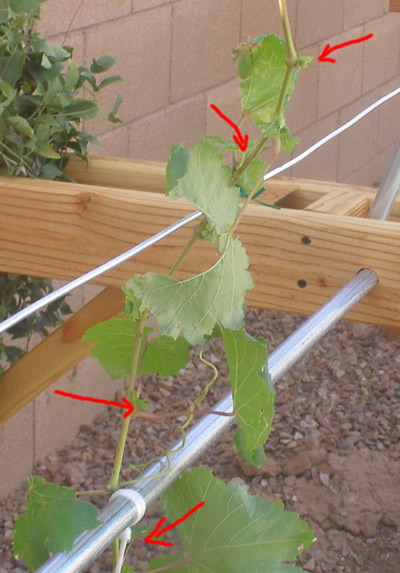 I'm hoping to get lateral shoots to grow out in the next 8 weeks before temps fall. Do you think I'm too late in the season?
No, I don't think so.  Since your growing season will be over in November, much growth can still be expected – if you stick to the methods I show in the Grape Growing System.
2. The training shoot in the photo (below) had a nice growing point and had added two inches in just a couple days. This morning it was damaged. Will this give me any lateral shoots this season? Or will I have to prune this back in winter and begin again next spring?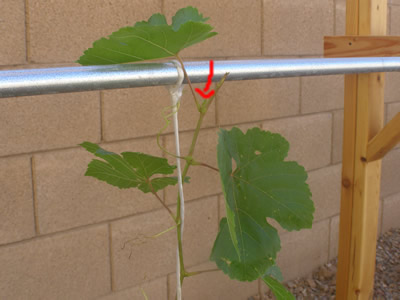 Yes.  See where the red arrow is; this tiny shoot that is developing here, can be used as a new growing point to train your grape vine to the trellis wires.  New lateral shoots below this point will also develop, and can either be removed or used for developing a cordon on the pipe – if that is what you want to do.  Personally I think it is too close to the ground to develop arm here.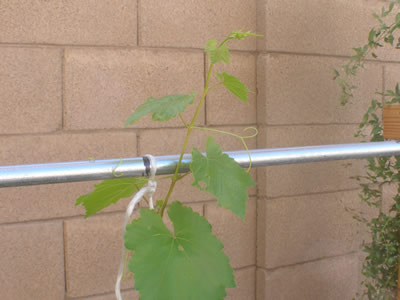 3. Photo shows a nice training shoot with good growing point that has added 2+ inches in the few days since I planted it. The first two wires are 8 & 16 inches above the bar. Should I let it grow taller or pinch off the growing point and hope to develop a few lateral shoots in the next 8 weeks?
Rick, as shown in the Complete Grape Growing System, you will have to let the vine grow pass the top wire and then remove the growing point, so lateral shoots can develop.  These lateral shoots will be used to cover the trellis wires.
Thanks for any info/advice you can give me.
I've spent hours reading and re-reading your e-book this past week and I'm really excited to begin my little vineyard.
Rick
Thanks Rick for sharing your pictures with us.  If there are any questions, feel free to post a comment on this blog post.
Take care everyone
Danie
Did you find this tips useful?  The Complete Grape Growing System has many more!
For only $29, you get instant access to all the grape growing information you need, PLUS get some bonus videos of how to prune and train a grape vine.
The Complete Grape Growing System is a digital product.  You will not receive any physical products.