Will pruning a grape vine earlier, advance bud break?
Wednesday, September 16th, 2009 at 10:34 am
Being working online and offline with thousands of vineyard owners from all over the world, the past four years, I know that this question still remains a mystery.  Well, I'm about to show you proof that early pruning will for sure influence the time of bud break.
During the past dormant season, we started pruning before my staff took their annual vacation.  We stopped pruning one of my Flame Seedless vineyards, halfway through the vineyard, when it was time for them to take their vacation.  After two weeks, we came back and pruned the rest of the vineyard, as well as the rest of my farm.
Now from the pictures below, you can clearly see that the grape vines in the section we pruned two weeks earlier, have develop more leaves and that the shoot length is much longer.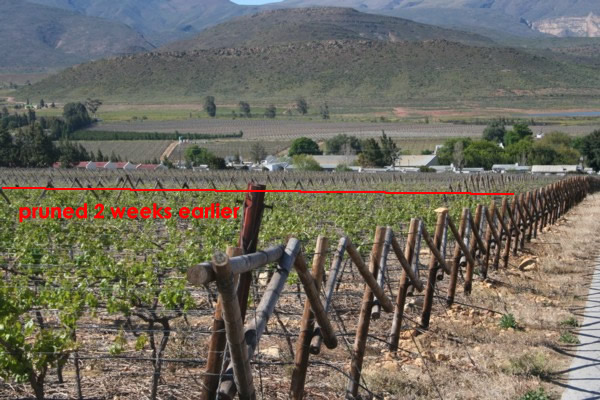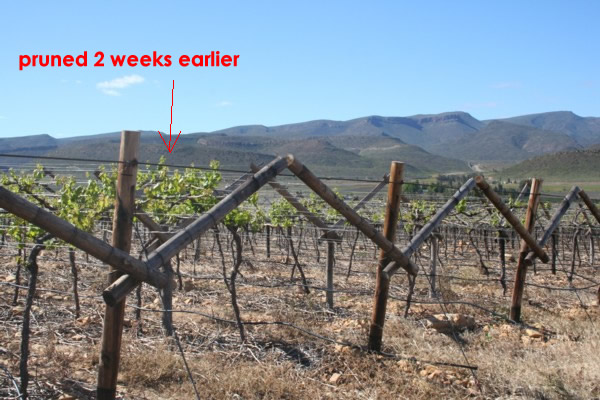 Why?
The buds at the tip of the canes come out of dormancy first.  This is the point where all the enzymes are transported to, as the sap flow in the vine increase.  Obviously, if there are less buds on the cane, more enzymes are available per bud and therefore, the buds will break earlier.
 Early pruning will not necessarily advance the harvest date.  The later vines will catch up, as the season progress, but one thing is for sure; it absolutely does advance bud break.  This is extremely important to know, if you live in a climate where early spring frost is a problem.  If you prune your grape vine too early, your grape vines will break bud too early and will increase the chance of frost damage.
Now the question remains: "When is the best time to prune a grape vine?"  A rule of thumb is, to prune just before natural bud break, but this isn't always feasible if you have acres of grape vines.   You need to know when bud break occurs in each of the vineyards or on each of your grape vines.  Each year, write down the dates of bud break, as this will give you more or less an idea of when you can expect it next year.  Although the annual climate, snowfall, rain and so on, will influence the actual date of bud break, it will give you more or less an idea of when this will happen.
On the other hand, pruning too late, also has it disadvantages.  If you start pruning too late (after bud bread), you will damage the cracked buds, and new shoots that developed.  If you damage the bud, the secondary bud will have to break to reveal a new shoot, and this will influence your crop size.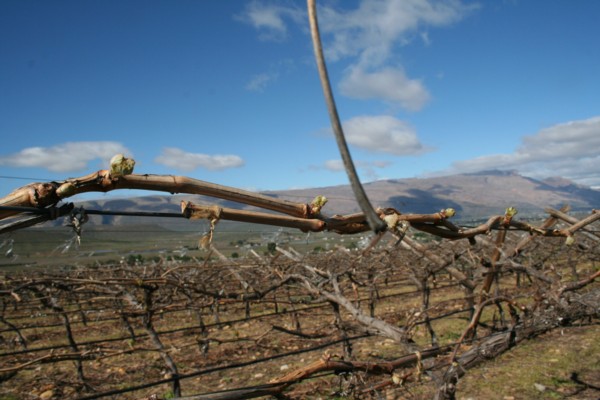 Remember; after pruning, the canes are twisted and secured around the trellis wires.  If there are small shoots and cracked buds on this cane, you will damage them, no matter how careful you work.
To sum up this article:
Early pruning does advance bud break, but not necessarily harvest date
Do not prune too early if your location is known for heavy spring frost
Write down the dates of bud break so you will know when to expect it
Do not prune too late as well, as the chances of you damaging the buds and shoots is much higher.
Know you vineyard, know your climate and you will know when to prune.
Good luck and hopefully this article shed some light on the correct pruning date for your vineyard.
Danie
Pruning your grape vine is one of the most important aspects of growing a grape vine the correct way.  Learn how, with the Complete Grape Growing System.

For only $29, you get instant access to all the grape growing information you need, PLUS get some bonus videos of how to prune and train a grape vine.
The Complete Grape Growing System is a digital product.  You will not receive any physical products.
Share and Enjoy
Tagged with: how to grow grapes
Filed under: growing grapes • how to grow grapes
Like this post? Subscribe to my RSS feed and get loads more!