Growing Grapes – Grape Bunch Sizing
Tuesday, December 15th, 2009 at 3:25 pm
Bunch Sizing for grape vines:
With this article, I will discuss an important part of preparing the grape bunches for harvest and its called bunch sizing.  We are about 3 weeks away from starting to pack our first Flame Seedless grapes, and although we had a hard time thinning out the bunches, the crop size an quality at this stage is excellent.
Bunch sizing, as mentioned before, is an import part of preparing your grape crop for harvest.  This is not so vital for wine grapes, but for table or eating grapes it is absolutely imperative that you know how to do bunch sizing and when to do bunch sizing.
As we are entering the final stages of berry development, just before coloring, the berry sets out about two thirds of the final size.  Off course this means that during this stage, you must know exactly what to do, to maximize the berry size, and one of the methods you should consider is to make the bunches smaller.
Not only will bunch sizing improve berry size, but will also improve coloring, disease control and also makes the harvesting and handling (packing) of the grapes bunches much easier.
If you look at the picture below, you will see a variety called Sundance Seedless.  This is an early/mid season, white seedless variety that naturally produce large bunches.  If we do no do proper bunch sizing, the bunches will weigh in access of 1.2 kg and the berry size on these grapes will most probably end up being 13 to 17 mm.
Bunch Sizing Pictures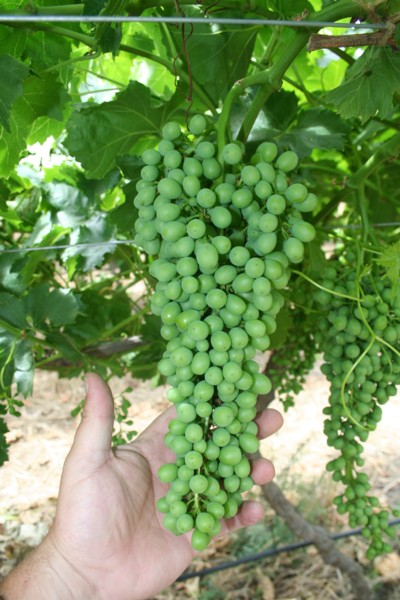 By just doing proper bunch sizing, we actually decrease the crop size, but will increase the berry size.  Hopefully, if everything goes as planned, the size of the bunches in the picture below, will around 600 to 800 grams, making it much easier to pack into cartons and also to handle.  An increase in berry size will increase bunch weight and all-over export quality.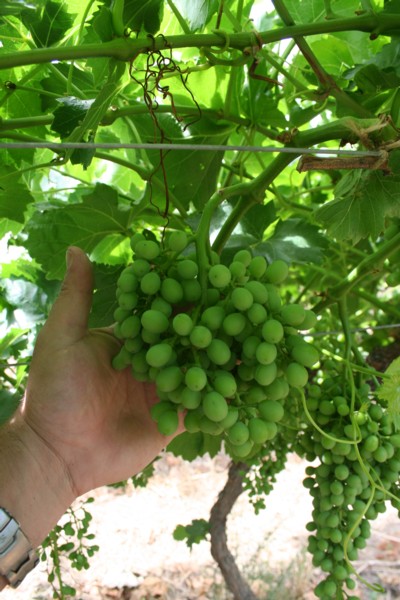 The actual size of the bunch above is just larger than the width of my hand.  Some varieties like Red Globe, Thompson Seedless (Sultana), we size the bunches even smaller.  I use this method of bunch sizing to size my Flame Seedless and Crimson Seedless bunches as well
The best advice I can give you on bunch sizing is to experiment with your own variety to find the size that suites your needs.  A rule of thumb for bunch sizing is to use the width of your hand and ad about an inch.
Bunch sizing will help you produce the best grapes in the neighborhood and make your neighbor envy your grape vine! 

If you need a COMPLETE proven system to help you succeed, then join the Complete Grape Growing System right now – CLICK HERE
Take care and happy grape growing my friend.
Danie
To Learn Even More About Growing Grapes,
Join The Complete Grape Growing System Today!

The Complete Grape Growing System is an online product.
For a once-off payment of only $29, you get instant access to all the grape growing info you need to succeed.
Share and Enjoy
Tagged with: how to grow grapes
Filed under: growing grapes • how to grow grapes
Like this post? Subscribe to my RSS feed and get loads more!