I Need Your Feedback Please
Wednesday, July 15th, 2009 at 8:39 pm
Hi again friends,
Welcome back to www.My-Grape-Vine.com 's blog.
This is not a regular grape growing blog post as usual, but rather a cry for help :-).  Yes, I need your feedback on how I can improve your learning experience at My Grape Vine.  The Internet is a wonder on it's one, but it's still a "cold" way of communicating with people.  Email is becoming more and more unreliable and with all the junk that fill our in-boxes, it's really not easy sifting out what's junk and what was send from a person who really needs help.
I always dreamt of, and tried to make it a bit more personal, like the addition this blog, 
where I can directly reply to some of the question grape growers have.  As you can imagine, it is nearly impossible to answer all, although I try my best. 
Any suggestions are welcome, as long as they related to grape growing and off course feasible – simply reply to this post below. 
Please, take some time to think this over and don't repeat a suggestion someone else already made.  You can show your support for an already suggested topic by replying to that specific reply.
Thanks for your precious time …
Ready for a success story?
I received the following pictures from Jacques, a member of The Grape Growing System.  He owns a small vineyard in Louisiana and used the Grape Growing System for the past year with GREAT success!  Jacques, I hope you are reading this and thanks for sending me the pictures and WELL DONE MY FRIEND!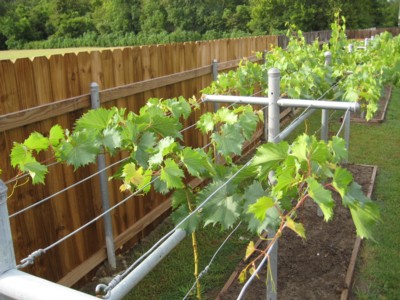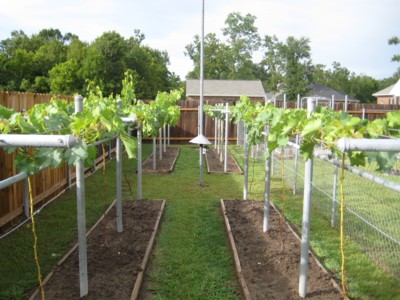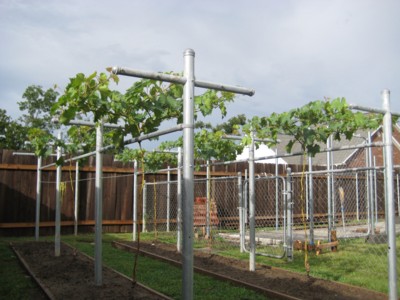 Notice how the well the above vineyard develops …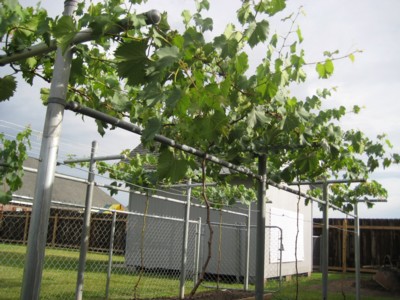 Great training techniques Jacques – good job!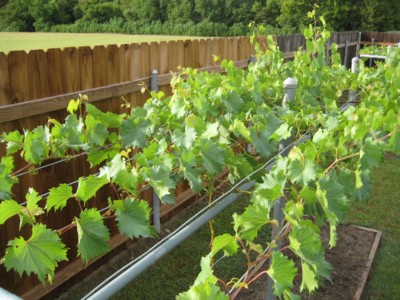 Hopefully next year you will have a truck load full of this …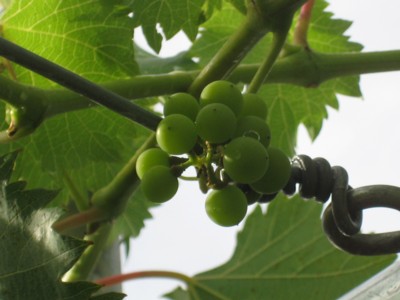 Here is the email from Jacques (please note I have deleted some private details from the email).
Hi Danie,
Just want to say thanks and send some pictures of my vines. Down in xxxxxxxxx Louisiana, July and August brings
rain and high humidity. Your CD

(ed.  he probably wrote the files he downloaded to a CD)

has helped me and my 1st year vines do very well.
I can't wait for next summer to see if the grapes will do as well as the vines.
Thanks, Jacques xxxxxxxxxx
xxxxxxxxxxxx, La
Would you like to grow a vineyard like this?
I told you it can be done in one year, but you didn't believe me! LOL  
It's time to get to work!
The Complete Grape Growing System is an online product and you will NOT receive a physical product.  All the information is available immediately for download, after you ordered the product.  You will only be charged US$29 (or your own currency converted) once, with no further payments or any hidden costs – GUARANTEED.
Share and Enjoy
Tagged with: how to grow grapes
Filed under: growing grapes • how to grow grapes
Like this post? Subscribe to my RSS feed and get loads more!