Late Harvest Grapes
Monday, January 19th, 2009 at 12:27 am
Hi friends, I hope everyone is settled in, after the holiday season and ready for 2009.  Here in South Africa, we started harvesting our grape crop a week or two ago (at last!).  It looks like a good, healthy crop and we are looking forward to another exceptional quality year.
Talking of grape quality, I want to share a little secret with you that will improve the quality of your next grape harvest – I suppose after this post, it won't be a secret anymore:-)
Sam (a members of the Grape Growing System) from the USA send me an email a few weeks ago, asking about these small bunches that appeared late in the growing season in her vineyard.  Her concern was that they are well behind the actual crop (ripen much later) and back then, with the end of the growing season just around the corner, they will not fully ripen – (she managed to grew some awesome grapes I must ad.)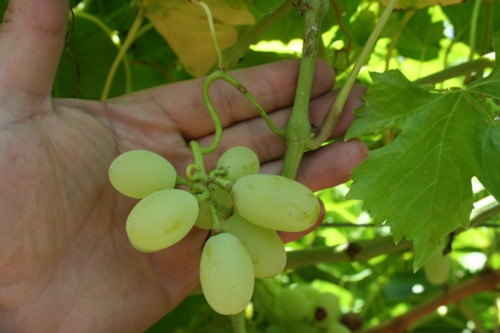 It took some effort to convince Sam to remove these "late harvest" bunches, as they are so lovely to look at.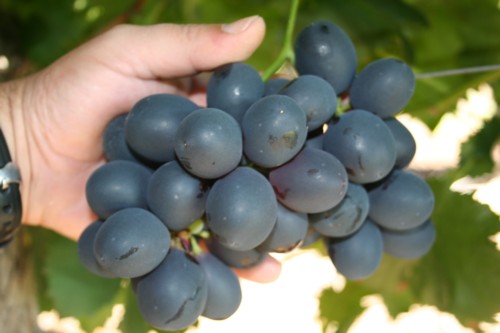 The reason you should remove these "late harvest" bunches is quite obvious, if you look at it from viticultural perspective.
From what you have learned this far and from what I teach in the Complete Grape Growing System; there is limit to how many grapes a specific grape vine will fully ripen and still produce top quality grapes – off course this depends on your climate, soil, variety and trellis system.
Say for example your grape vine will fully ripen 20 bunches of grapes that will ensure a good berry size and quality grapes, then early in the season, these little "late harvest" bunches normally isn't counted as they were very small and were "hiding" behind the leaves in the canopy.
Once they get bigger, they will start to compete for food and this will negatively influence the main crop on your grape vine.  I know, the temptation will be there to leave these "late harvest" bunches on the vines, but if you are looking for top quality grapes (as you should), then removing these bunches will for ensure much better quality (size and sugar) grapes.
I found that after harvesting their crop, most grape growers never even bother to remove these bunches from the vines.  What will eventually happen is that these bunches will rot and remain on the vines until late in fall and then fall off.  The question is: "Where do all the fungus spores go to?"  Off course they will remain in the soil and when the temperatures rise in spring and the conditions favour the development of fungus spores, they WILL infect your next crop.
Vineyard sanitation is an unknown and one of the most underestimated practices for most new grape growers.  Infected soil, canes and leaves on the ground are the main sources for problems with gray and black rot in the future – remember this.
If didn't have enough grapes on your vines, then having a "late harvest" crop will sooth the soul, but it is important to always remove ALL of the left-over grapes from the previous season.
I hope this tip will improve the quality of your next crop!
Take care, and talk to you soon.
Danie
P.S.:  Did you like this tip?  There is much more to growing grapes!  Come, let me take you by the hand and show you that YOU too can be a successful grape grower.  Join our elite group of grape growers by signing up for the Complete Grape Growing System.
For a once-off payment of only $29 you get everything you will ever need to know about growing grapes, plus get two pruning videos absolutely free.

Share and Enjoy
Tagged with: how to grow grapes
Filed under: growing grapes • how to grow grapes
Like this post? Subscribe to my RSS feed and get loads more!