Niel and Suzana's Grape Vines
Monday, February 9th, 2009 at 11:25 pm
As promised, although a bit later than anticipated, here it is:  Niel and Suzana's grape vines.
Niel's Grape Vine:
Niel is from New Zealand and is a member of the Complete Grape Growing System.  A few weeks ago, he send this email:
Hi Danie
Awesome book!
My section is very narrow so your favourite way to grow grapes , doesn't suit my property. So I have grown on four wire structure my fence you see in the pictures run north facing so I get all day sun . I have 3 varieties planted so far, two modern varieties only 2 year from planting they are developing nicely. But the variety I'm going to show you is very old not sure what it is as I planted it from a cutting. This is now its 3 year from planting.
Questions:
1. I have this vine growing really well from the centre of the vine it extends 7mt in each direction is this too far to produce consistent bunches of grapes ?
2. Because this is a cutting, do the bunches look OK , they don't look plentiful with grapes , because this vine is only 3 years is it still too young to produce larger bunches ?
Just need some advice to check I'm on the right track or will I need to graphed on some new varieties to plant and use current plant as root stock this winter  ?. Thanks Danie
Regards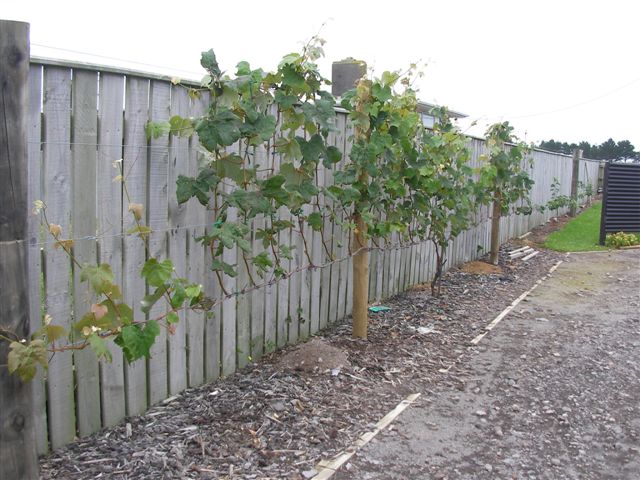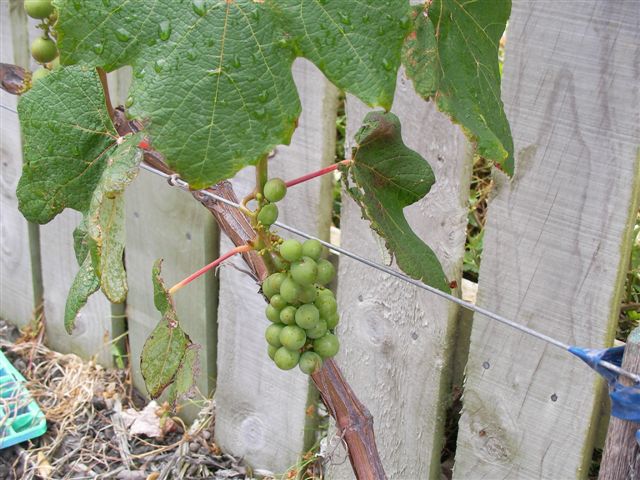 First of all I didn't upload all the pictures he send me, it's great looking grape vine Niel got there, especially if you take into consideration that it is only 3 years old – well done!
I can see how he adapted the info from the grape growing system, to suite his specific needs and to develop the framework of his grape vine.  This is the beauty of the system isn't it?  It shows you the basics of how it's done, that will trigger your own creativity for developing ANY grape vine, and then take you one step further into becoming a successful grape grower.
To get to Niel's questions:
7 meters (about 23 feet) to each side is quite a long stretch I must admit.  Why?  When you start out as new grape growers, you should always keep in mind what the vine will look like in 20 years' time.  Although I think Niel will be fine with the trellis he constructed, this is a mistake so many grape growers make; allowing too little space for a properly developed grape vine.
Another problem with growing a grape vine, the size of what Niel is doing in his backyard, is what we grape growers call "die back".  A grape vine always tends to produce better/more shoots at the end of the structure or cordon – in other words, in Niel's case, from about 3 to 7 meters.
When the vines are still young, you will most probably not see symptoms of "die back", but as the vines grow older, and the frame work of the vine gets bigger and more woody, Niel may experience "die back" of canes and buds near the stem of the vine.
This isn't ideal, because you should always have the option renewing a arm or cordon, in case something happen to it (cold damage, or diseases ect.).  There should be canes and renewal spurs of good quality, close to the main stem of the grape vine
My advice to Niel and if you have a similar situation, is to planting a few more vines so you can keep the structure of the vine closer to the main stem of the grape vine.
Will Niel's vine produce bigger and more grapes in the future?  Well, I certainly hope so, though I can't see any reason why not!  Remember, a three year old grape vine is still considered a young vine, so don't allow the grape vine to produce a full crop at this age.  I know the temptation is big to have a full crop as quickly as possible, but your focus, the first couple years, should be to develop a well balanced grape vine, with a structure that can support a full crop.
Niel, thanks for sharing your pictures with us.  You've done a great job so far, keep it up!
Suzana's grape vine:
Suzana if from Torrence, USA, and has been a member of My Grape Vine since who knows when?  She and her husband, together with a team of really enthusiastic grape growers are taking care of a project to reestablish a vineyard at their church.
I just love getting emails from Suzana (she even send me a Christmas card this year!).  Last week I received a call on my cellular phone from an "unknown number".  Guess what?  On the other end of the line was Suzana!  Although the connection wasn't that good, we managed to have a very pleasant conversation and we could share some great grape growing info – it was really a pleasure speaking to this kind lady.
OK, here's a couple of pictures from their project and some emails she send me.  I'll elaborate a bit more at the end of this post.
Enjoy this lovely project!!
11 Dec '07
I'm excited to have subscribed to your Program!
We,  here at xxxxxxxxx Church , are approaching the time when we need to take our cuttings from Dorothy's grapevines to have the vineyard start again on church property, after some 40 years.
How dormant do the vines need to be to take the cuttings?  Do I wait until all leaves have fallen?  I've enclosed 2 pictures taken yesterday.  Some leaves are still green, others are yellow & orange.  The vines on the top of the trellis have less leaves.  How will I know when it's time to prune and take our cuttings?  Also, the vines are all tangled up.
Thank you for your guidance.
Suzana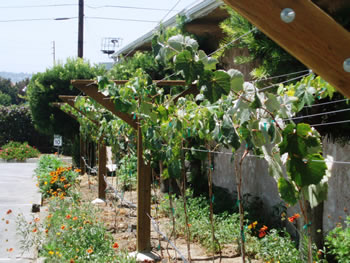 Hi, Danie,
I wanted to share with you photos of our "nursery".  We chose to transplant our sprouted cuttings in May from the collective pots into individual pots instead of a propagation bed, in order to make things easier at the time we plant into the ground with the modified gable trellis for support.  It's been an ongoing effort to keep those gregarious tendrils apart…  the taller stakes are 6′ tall.
…
I welcome any and all comments you may have.  You are an inspiration — I'm so glad I landed on your website when I was first doing my research!
This is awesome results.  I'm so proud of you guys.  Anyway, planting the vines in pots is a good idea if you work on a small scale.  If you plan a bigger vineyard, go for planting bags or bare root cuttings.  Moving around 600 pots per acre is quite a job!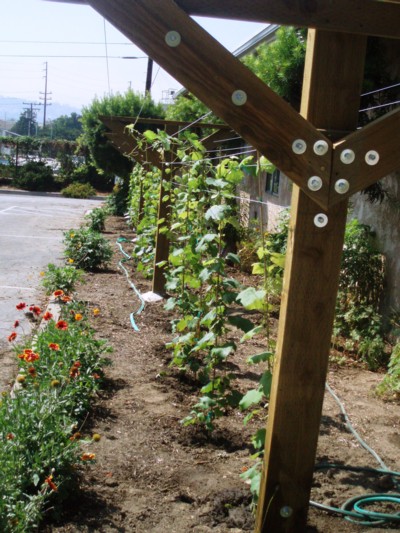 15 Sep '08
Hi, Danie,
The vines are in!  Hallelujah!   The holes are 3 feet apart.  There is one common wire at the bottom of the trellis V, then 4 wires on each side spaced 8 1/2 inches apart.  We will be using your alternative method for this gable trellis to train our vines.  Only a couple of the 34 vines have not quite reached the bottom wire.
Blessings, Suzana
The vines went dormant (most of them, as it seems to have been a relatively mild winter where she live). And this is how she pruned them.
One very important thing to remember (and this is what we spoke about on the phone as well), is to not try to develop the frame work of the vine from lateral canes if they are to weak.  Rather prune the vine back to just above the wire where you want the cordon to be and develop it the next growing season.
Suzana did a great job here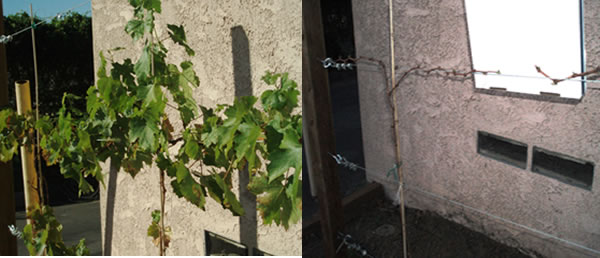 Another question that came up:  "When should I prune back a young grape vine to the ground?"
I explained to Suzana, that if you successfully trained the grape vine and followed the training methods I teach closely, the chances of needing to pruning way back to the ground is almost zero.
You should be able to develop at least one shoot to reach the top cordon wire.
If your young grape vine didn't grow well during the past growing season, and didn't come close to the support wires, most of the times it is better to prune the young vine back to 3 buds and start over the next growing season.
I hope these pictures and emails gave you some ideas on what can be done if you follow sound grape vine training methods.
Would you also like to become as successful as Niel and Suzana?  Then join the Complete Grape Growing System Right now for just $29.  If you are outside the US, you can even pay in your own currency.

 Thanks for reading and happy grape growing my friend.
Danie
Share and Enjoy
Tagged with: how to grow grapes
Filed under: growing grapes • how to grow grapes
Like this post? Subscribe to my RSS feed and get loads more!