Sunday, January 15th, 2012 at 4:07 pm
Summer Pruning Grape Vines – The Forgotten Growing Season Manipulation!

Hi friends,
I hope you are all doing well.  Today I want to share with you a really important aspect of growing grapes: summer pruning grape vines!
As you probably know by now (or will soon find out, if you are new to this); there is more to growing grapes than simply watering and feeding your grape vines.  If you are serious about growing grapes and if want to be successful grape growers, then you need to learn more about what it takes to produce good, consistent, grape crops and today we look at summer pruning grape vines – a manipulation so many grape growers simply don't do!
Summer pruning grape vines is where you will remove unnecessary green shoots or part of shoots from the grape vine during the active growing season.  The most important reason why we do summer pruning is to improve sunlight penetration into the grape vine as well as to improve airflow through the grape vine.
Proper sunlight penetration and airflow in a grape vine will improve the coloring, fruitfulness and disease control.
Summer Pruning Grape Vines – the 3 different methods
1.  Summer pruning grape vines – Removing extra shoots (suckering) and removing water shoots
What looks like a grape vine bud, is actually three buds in location (composite bud).  It sometimes happens that not only the primary bud develops, but the secondary and/or tertiary bud also develops.  Summer pruning grape vines or suckering, is where we remove the shoots that developed from the secondary and tertiary buds.  The reason why we do remove these buds, is to allow only the primary shoots to use the available water and nutrients.
Water shoots are shoots that grows from the framework (arms and stem) of the grape vine.  These shoots normally will not produce grapes and will only compact the grape vine canopy.  When we summer pruning grape vines, you need to remove these shoots except if you want to create a new pruning location for future spur pruning (see the grape growers guide).
2.  Summer pruning grape vines – Removing lateral (side) shoots
On each shoot, there are numerous buds that can also produce shoots.  These buds are situated between the leave stalk and the shoot itself and should be removed if your grape vine is too compact.  For the members of the Complete Grape Growing System – remember; it's important to understand this when you train a young grape vine.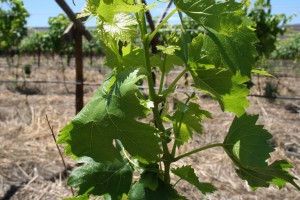 3.  Summer pruning grape vines – Opening up the canopy by cutting shoots to shorter lengths.
Close to harvest, I normally open up the canopy of my vineyards to allow more sunlight to penetrate the grape vines.  Don't do this too early if you live in a climate where sunburn on grapes often occur.  Once the grape vines start to turn color, you can go ahead and open up the canopy.
With the trellis I use (gable trellis), I simply prune the shoot-ends to leave a 1 to 2 foot "tunnel" where the sun shines through – this will dramatically improve coloring of the grapes (especially red and black varieties).  For sure, summer pruning grape vines will differ for other trellis systems, but I think you get the idea.
Okay, so I hope you understand that summer pruning grapes vines is important and remember, this MUST be done to ensure healthy, properly colored grapes like in the picture below
Want PROOF that summer pruning grape vines

really

makes a difference? 
Then read Lisa's email below
Hi Danie,
I just wanted to say thank you for your very clear instructions for tending my grape vines. I have grown them on a pergola for many years and they just rambled to the point where the concord grapes stopped producing entirely. The other two grape vines had many clusters with very small berries.
This year, I was able to harvest the biggest grape berries I have ever grown thanks to the summer pruning technique which seems to have been omitted in every pruning manual I have ever read, except yours! Here is a picture of my crop…it has been so long that I have forgotten the names of the grapes, but I have red, green and concord vines.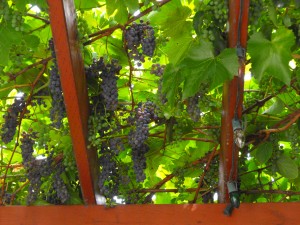 Not only did I have lovely grapes growing, but I was able to make a lovely wine from it all; the old fashioned kind, made with water, grapes, sugar and yeast and nothing else. Next year, the grapes should be even bigger! Thanks again for all your great advice on summer pruning grape vines!
Lisa P…….. (not displayed to protect her privacy)

Your Canadian friend
Was this Summer Pruning Grape Vines article helpful?
Now learn how to grow YOUR grape vine the correct way

The Complete Grape Growing System for only $29